At Del Vecchio Dentistry, we believe in using the latest technology to provide you with a convenient and comfortable dental experience. Digital x-rays are the latest in x-ray technology and have been shown to reduce radiation exposure by 50-80% compared to traditional x-rays. There are no chemical processes involved and the results are available for review instantly!
We start off by placing a small sensor in your mouth, which is digitally connected to a computer. The sensor captures coloured x-ray images and within seconds you and your dentist can see the results.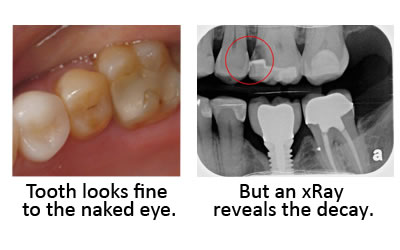 Digital X-rays have many advantages over conventional x-rays:
They are faster and more sensitive
View coloured images instantly
Enhanced images to improve viewing
Store digital images on the computer for future use
Reduced radiation by as much as 80%
Dental X-rays are a useful diagnostic tool
Dental X-rays are a useful diagnostic tool when helping your dentist detect damage and disease not visible during a regular dental exam. How often x-rays should be taken depends on your present oral health, your age, your risk for disease, and any signs and symptoms of oral disease. If you are a new patient, Dr. Vit Del Vecchio may recommend x-rays to determine the present status of your oral health and have a baseline to help identify changes that may occur later.